Merge the look and feel of your decor
Use embossing for new directions in the texturing of surfaces
Digital lacquer embossing (DLE) enables you to break new ground in the production of textured surfaces. The DLE proceeding, which results from development by the Hymmen GmbH Maschinen- und Anlagenbau company, combines elements of digital printing with coating technology. The initial challenge was to make the texture of printed wood decors tangible and visible, but now its application extends far beyond this: other materials such as marble, concrete or tiles can also be authentically reproduced. Or – and this is completely new – even a fantasy texture without underlying decor can serve as a high-quality surface finish.
As its lacquer partner, we are collaborating closely with Hymmen and cover the complete embossing portfolio in the field of coating.
Lacquers using different UV curing mechanisms are deployed (such as energy-saving LED lamps). The surface is composed of multiple layers including primer, digital print and other functional layers that influence properties such as the final surface's abrasion or scratch resistance .
Some of our customers are already successfully using this modern proceeding for the surface coating of their products.
All embossing advantages at a glance
Special surface textures for decors
Perfect synchronicity between digital print and texture

Change of texture without loss due to setup time

Matt/gloss effects are possible

High speeds

Sharp and deep texturing can be achieved

Authentic reproductions (wood, stone, concrete)

Absolute design freedom
How embossing works
What does this technology do and how does it work?
Digital lacquer embossing (DLE) involves a texturing medium being printed onto an unhardened lacquer film. Chemical and physical processes then achieve the desired surface depressions and textures that are fixed after hardening. This enables you create textures that synchronously match the décor of the surface, regardless of whether this décor was printed by analogue or digital means. Surfaces finished using the DLE proceeding meet the same demands as other lacquer surfaces in terms of abrasion and scratch resistance .
New: DLE plus proceeding
Enables variable texture depths and sharp edges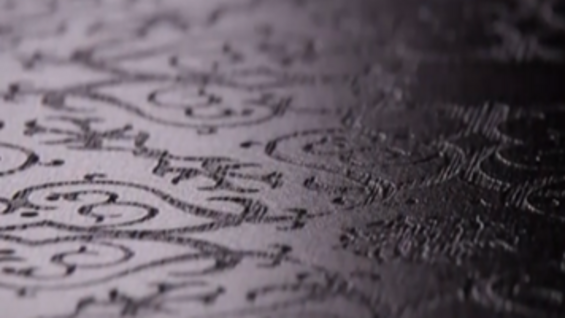 All creative decors possible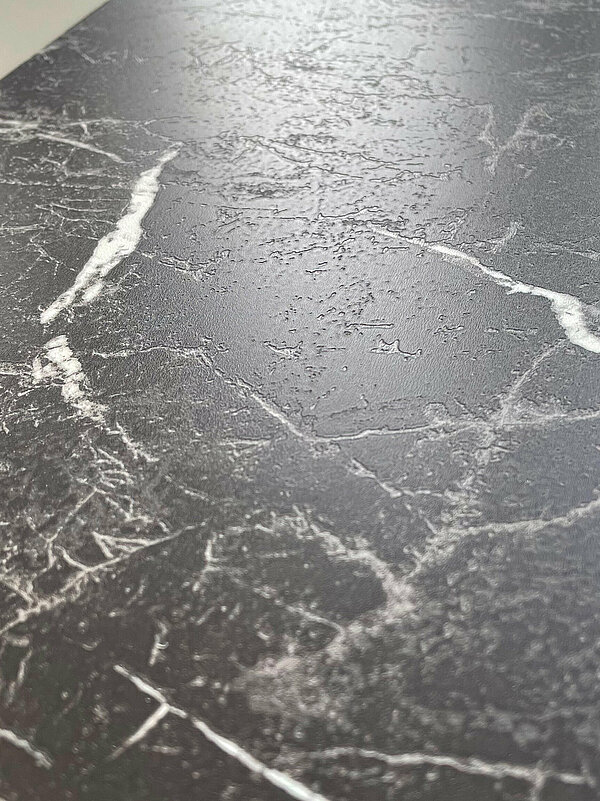 Stone look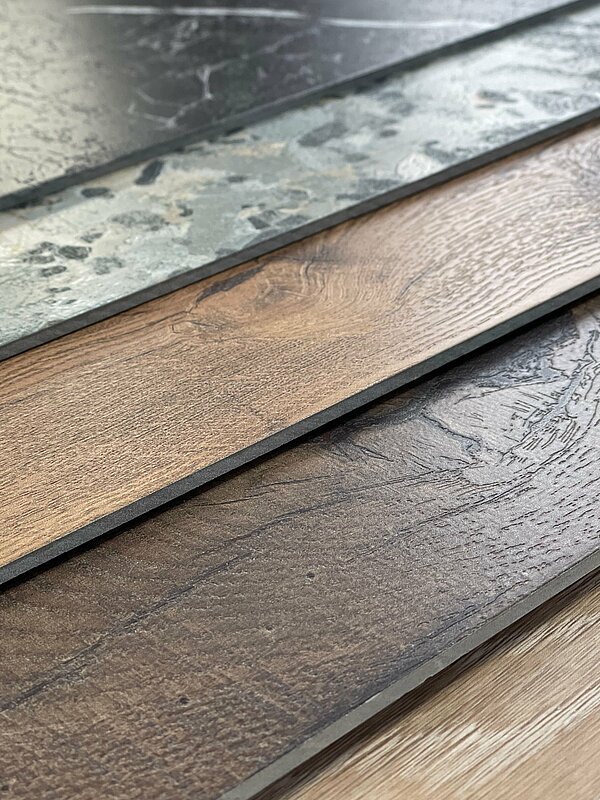 Decor variety with DLE plus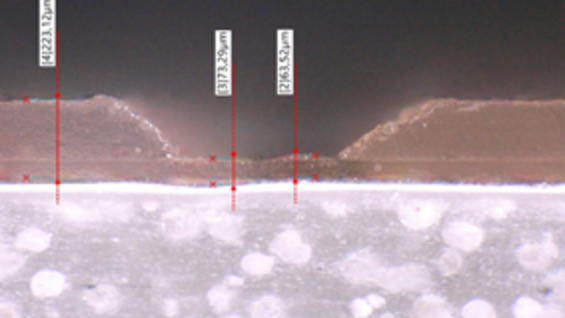 Microtome section shows structure depths
New: DLE plus proceeding
Enables variable texture depths and sharp edges
The new generation of DLE, DLEplus technology offers completely new possibilities. It involves lacquer and digitisation being combined in the best sense. The print head can be controlled digitally at will, opening up completely new design worlds; authentic wood, stone, concrete looks or creative fantasy decors are possible.
Three-dimensional surface structures with defined edges and variable texture depths of up to 200 µm can be realised. Particularly exciting here is not only the production of narrow recesses, but also those with a large surface area. The final hardening permanently fixes the texture, so that this proceeding also produces surfaces with superb resistance .
DLE or DLEplus technology can be used depending on the desired properties of the digital texture.
Conclusion
Success as a team
The embossing proceeding originally developed by Hymmen GmbH Maschinen- und Anlagenbau has been continuously perfected with the involvement of our surface experts.
We're currently the only coating manufacturer with the complete DLEplus product portfolio paired with a large and reliable processing window.
Do you have any specific requirements? You can fulfil them using our lacquers. Customer requirements such as abrasion resistance according to S42 and/or Falling Sand, the chair roll test, and requirements for low flammability (including EN 13501) – our finishing procedures fulfil every wish.
We're continuously expanding our know how and our experience. Intensive support _ especially in the start-up phase _ guarantees you a complete carefree package
The positive development of this technology indicates to us: Great teamwork, even across company boundaries, leads to success!
Everything is possible. Contact us.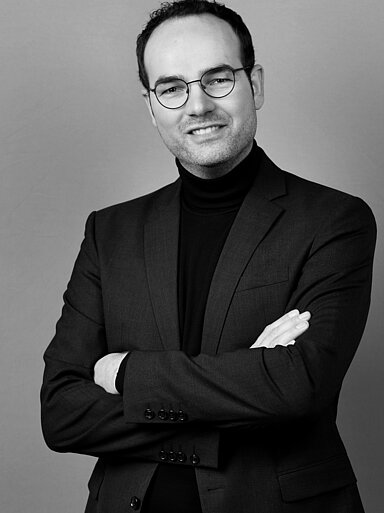 Christoph
Büttemeyer
Sales Global Markets GM
Business Developer GM