Coats deep into the pores
Patented technology that retains and protects the natural pore pattern
Open-pored surface coatings are fully on trend. due to their natural texture and pleasant feel. Until now, any open-pored surfaces coated via UV roller application were difficult to clean. Innovative Hesse POREGUARD application technology has now consigned this problem to the past. Because using this technology even enables coating of the pores during UV roller application . This enables value retention and significantly facilitates surface cleaning.
Special roller application ensures that the coating's natural pore pattern is not only retained, but also protected in the long term. A specific system configuration combined with the matching coating concept from Hesse Lignal would mean that you too could fully coat your surface pores in future.
Our innovative POREGUARD technology is patented (Hesse EP 3453464 A2 and EP 19150746). Interested companies from the parquet and furniture industries can conclude a license agreement to enable them to use this new technology for their own purposes.
POREGUARD advantages at a glance
Technology for modern UV rolling lines
Also coats the pores, not just the surface

Open-pored appearance

Elegant pore accentuation, without protrusions

Easy to clean

Durable coatings for parquet and table tops

Customers delighted by the distinctive look
How does POREGUARD work?
What makes this innovative technology so special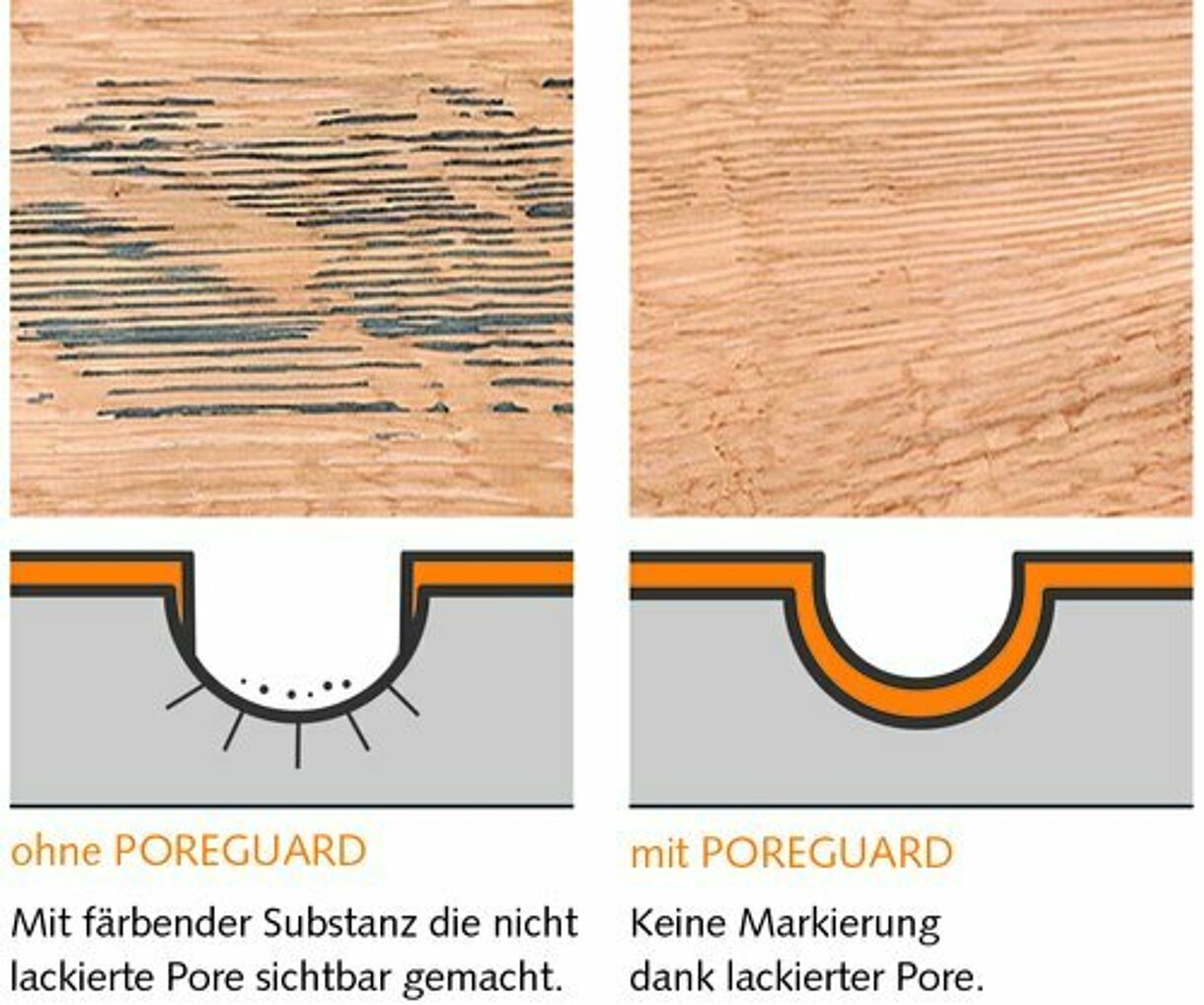 This sketch illustrates the new protection for a deep pore: The pore is only insufficiently or not at all protected by UV roller lacquer without POREGUARD technology. The lacquer wets all of the pores when POREGUARD technology is used.
How does POREGUARD work?
What makes this innovative technology so special
The innovative POREGUARD technology developed by Hesse is based on attested production steps and can therefore be integrated into around 90 per cent of existing production lines with little effort (see Figure 2). Basically POREGUARD involves the application of a HYDRO-UV Adhesion primer and a UV Basecoat.
Preparation for the modified application process does not restrict quality in any way: the material withstands more than 10,000 revolutions in a Taber abrasion test on the test bench. Sanding of the wood is followed by application of the UV top coat in the POREGUARD procedure. This procedure includes six steps:
1. Template: depending on the pore structure, around 80 - 120 grams of UV lacquer are required per square metre.
2. Troweling: use a putty applicator to press the template amount into the pores, leaving around 40 - 60 grams per square metre remaining.
3. Pore roller: a pore roller reinstates the open-pored nature of the wood by removing some further 10 grams of UV lacquer per square metre.
4. Distribution station: the lacquered wood is brushed to prevent silver pores . (As the name suggests, silver pores , have a silvery appearance. They can be caused by air pockets in the lacquer layer.)
5. UV lamp I: a UV lamp is used to gel the lacquer, but not yet harden it.
6. UV lamp II: in combination with final sealing this gives the material its ultimate hardness.
Our innovative POREGUARD technology can be used wherever large surface areas of open-pored woods are coated industrially: POREGUARD is therefore ideally suited for the parquet industry and for the manufacturers of furniture, tables, worktops and doors.
A technology licensing partnership agreement was concluded with the company i4F for the POREGUARD technology. As a result of this agreement, i4F becomes the sole licensor of POREGUARD worldwide.
The i4F group of companies develops patented technologies for the flooring industry and related sectors.
A field test of POREGUARD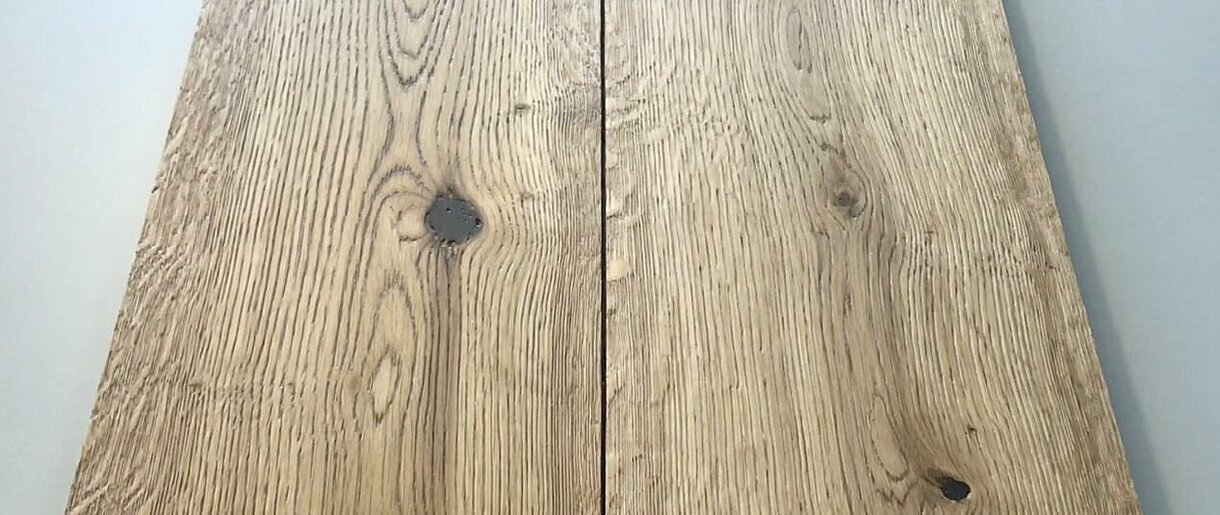 A field test of POREGUARD
A test substance indicates how well the pores on the left are protected by our Poreguard procedure. The pores get dirty very easily on the normally coated surface (on the right without Poreguard). This time-lapse test practically illustrates the real world given regular heavy use!