Extreme matting based on UV irradiation
Excimer technology makes a matting agent superfluous
Hesse Lignal has been working for years with the diverse possibilities of excimer technology to provide its customers with ever more new creative scope. Because this special UV irradiation technology enables the production of extremely matt surfaces with maximum insensitivity. A strong diffusion of light incidence is achieved without the use of additional matting agents.
Excimer technology nevertheless also enables special surface properties, such as anti-fingerprint or a soft feel, to be produced without any difficulties. This special type of UV irradiation is ideal for coating the surfaces of flooring, furniture, doors or foils .
The advantages at a glance
Modern excimer technology for special coatings
Extremely matt

Very good overall chemical and mechanical resistance

No formation of glossy areas and no scratches

spray, roller and casting application are possible

Suitable for 3-dimensional components

Anti-fingerprint coating
How excimer technology works
What does the UV radiation process do and how does it work?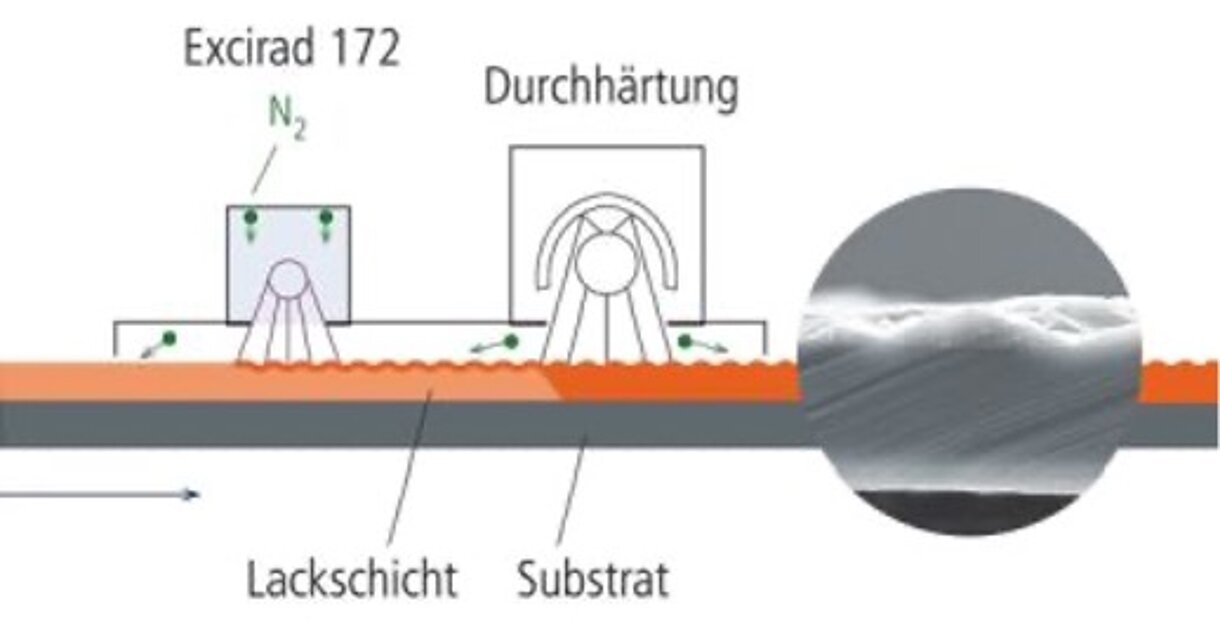 How excimer technology works
What does the UV radiation process do and how does it work?
A liquid lacquer material is applied to the substrate by means of a roller, spray or casting application . Irradiation using an excimer emitter (172 nm wavelength) only hardens the top layer of the lacquer film due to the low penetration depth. The shrinkage in this process creates a fold. The deeper layers remain liquid. The entire coating film is then fully hardened using a traditional UV lamp or EBH emitter. The folded surface then remains intact.
What does folding achieve? Matting agents that strongly scatter the incident light are used in traditional processes to achieve a very low gloss level . They make the surface appear matt. The disadvantage of using large amounts of matting agents is that this causes the surface's mechanical and chemical resistance to be relatively low. The gloss level of an excimer surface is conversely achieved by the light being scattered by the folding, not by matting agents. The strong scattering of light due to folding ensures a matt perception. The folds can be varied depending on lacquer formulation and dryer configuration. Gloss levels can firstly be influenced (2-15 Gloss 60 °), yet soiling properties ("anti-fingerprint") or special haptic characteristics ("soft-feeling") can also be produced.
The best thing is that excimer technology also works on 3-dimensional components. In addition to the well-known roller application , the technology can also be used in the spraying process. This realisation results in virtually no restrictions to the geometry of your workpieces. Recesses, cut-outs and edges are simply coated at the same time. It involves the use of a specially formulated, water-dilutable and UV-activated excimer lacquer.
You too can benefit from our experience with excimer technology. We can support you with your ideas, or with your specific excimer - project. Best of all, ask our product management experts your questions right away.
Image: IOT - Innovative Oberflächentechnologien GmbH